Below are some helpful hints when selecting Ceiling materials in Cool Calc:
Attic Ventilation - If the attic contains ridge vents, eaves, soffits, or fascias, and is vented according to the US Federal Housing Authority guidelines select "FHA Vented"
Attic Fans - Often times, after a hot day, the temperature inside of a home can be higher than the temperature outside of the home. Attic fans (or whole house fans) exhaust hot air through vents in the attic, causing a negative pressure in the home, which draws in cool air from the outside (saving money on air-conditioning). The presence of an attic fan can be identified by a grille in the ceiling of a central hallway or outside gable vents on the home.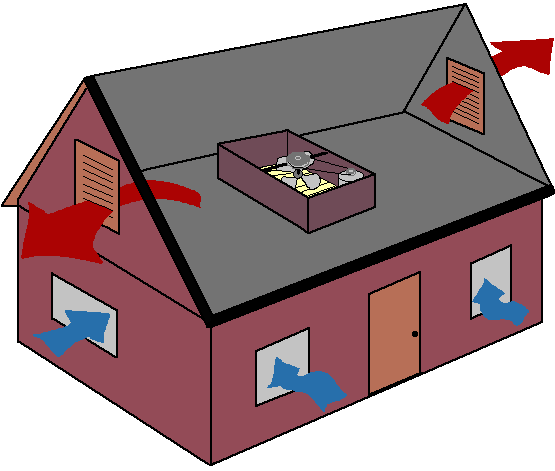 Radiant Barrier – A radiant barrier is a foil-like material that reflects heat. This is typically used only in the south.
Ceiling Insulation - If there is an attic, ceiling insulation can either be applied to the attic floor or the along the roof rafters. If the insulation is applied to the roof rafters, the attic is referred to as an "Encapsulated Attic". If "Encapsulated Attic" is selected, Cool Calc will automatically calculated the temperature difference between the attic and living space based on ACCA tables.
If the insulation is applied to the insulation floor the user can either have Cool Calc automatically calculate the most likely R-value, or manually enter the r-value (if known).
If you have access to the attic, the R-value of the insulation can easily be determined. Fiberglass insulation will typically have the R-value printed on the paper backing. Attics, may also have Cellulose Insulation (typically made from recycled paper) blown in on the attic floor. Cellulose Insulation has an R-value of about 3.8 per inch. You can use a ruler to measure the insulation depth in the attic and multiply it by 3.8. For example, if the insulation depth is 12 inches the R-value is most likely around 45 (3.8 * 12 = 45.6)
Some rooms have cathedral ceilings. Cathedral ceilings or ceilings with exposed beams typically have lower R-values since there is a smaller cavity to fit the insulation into. For example, a standard 2x10 roof joist would be able to fit about 9.5 inches on insulation.